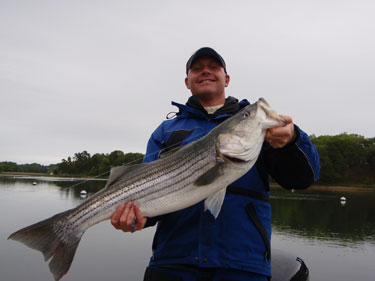 Island Girl reservations available
May & September only
The Island Girl is an 18 foot Seaway, perfect for light tackle fishing on Cape Cod waters. This is the classic Cape Cod Commercial Skiff, wide and stable with a flat bottom for getting into shallow water areas. The Island Girl is powered by a 70 -horsepower Suzuki fourstroke outboard. This engine is so quiet that I sometimes forget it is even running! These two things combined with a large raised casting deck, make a great backwater and flats boat.

I custom built this boat for one reason and one reason only, shallow water Striper fishing in places where very few people fish. I have been fishing these spots for years in my kayak and old tin boats and the fishing is awesome! The fly fishing is excellent and action is fast, but my true favorite is the top-water lures. Lot's of keepers and fish up to 40-inches on top-water baits is what makes these trips memorable.

POPULAR CATCHES:
Striped Bass:

May: Stripers ranging from 2-20 pounds are the norm. We typically fish with larger lures because you could catch a 2-pound Schoolie on every cast if you wanted too. This time of year, I rarely venture out into open water and focus all my attention to the shelter coves and bays all along the South side of Cape Cod.

September: The Fall is a great time to target large Striped Bass along the Elizabeth Islands. Large Striped Bass up to 50-pounds are common this time of year. Fly-Fishing, casting plugs or casting eels are common ways of fishing in the fall. Don't forget about Bonito and False Albacore Fishing, these little Tunas are a blast on light tackle or fly.

UPCOMING FISHING SEASON RATES:
Half and Full day trips available (2 person maximum)
$375/6-hours, $475/8-hours
Depending on the time of the sunrise, departure times may vary. I try to leave the dock 1 hour prior to sunrise or in the afternoon I try to end the trip 1 hour after sunset.

All Spin and Bait Casting tackle is provided. I do carry some of my favorite flies and flies that work in the areas that I fish. I do not supply fly rods for customers. I am not trying to discourage Fly Fishermen from chartering me, I am an avid Fly Fisherman myself.

50% deposit is required to secure your trip. We accept Visa/Mastercard, checks and cash. Cancellations due to weather are made by the Captain, at the dock, the day of your trip. Cancellations 10 days prior to your trip will result in a full refund. Cancellations within 10 days of your trip will result in the loss of your deposit.

DIRECTIONS to the Island Girl:
Due to the variety of places I like to fish and which spots are holding fish, directions will be provided a few days prior to your scheduled trip.

Custom trips are available. I am familiar with the waters off Boston, Cape Cod Bay, Chatham, and Buzzards Bay. I would be happy to fish around your home waters.

WHAT TO BRING:
You are encouraged to bring your favorite rod as long as the Captain okay's it for the type of fishing we will be doing. Pack a meal and your favorite beverages (no glass bottles, please) and dress appropriately for the days forecast (raingear or sun block).

Also: Camera, Windbreaker, Hat, Sunglasses