Bait, Tackle & Outfitters:
Ande Monofilament
5409 Australian Ave., W. Palm Beach, FL.
561-842-2474
Eastman's Sport & Tackle
150 Main St., Falmouth
508-548-6900
Full-service tackle shop
Falmouth Bait and Tackle Company
258R Teaticket Highway (Rt. 28), Falmouth 508-457-0700
Full service bait and tackle shop


Online Fishing Resource Sites:
On the Water-Angler's Guide to New England
Interested in listing your
website on our page?
In order to qualify, your website
must be related to the fishing industry or be a Falmouth, Cape Cod
based service.
We also request that if we link
to you, you link to us!
If interested, email us at: links@falmouthcharters.com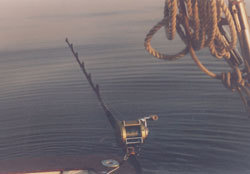 Falmouth & Cape Cod Info:

Dining in Falmouth:

Lodging in Falmouth: