The Islander is a 31' JC Boat, powered by a Catepillar Diesel Engine. The Islander is equipped with state of the art electronics and all Coast Guard approved safety gear. All custom tackle is provided and "yes" we do have a bathroom.

Come fish with us as we chase our favorite prize, the Striped Bass. The South side of Cape Cod has some of the best Striper spots on the east coast, Martha's Vineyard, Nantucket, and Cuttyhunk, just to name a few. We use all types of methods, trolling, jigging, vertical jigging, chunking and casting to catch Bass depending on the opportunity and time of year.

CAPTAIN:

Captain CJ Lambert's adventures have taken him from Maine to North Carolina, Florida, The Bahamas, and Mexico. He is USCG Licensed with over 20 years of fishing knowledge.




2019 Regulations

Striped Bass: The Striped Bass is probably the most fished for species on the east coast. The "Striper" has the ability to grow over 80-pounds with the current world record being 78-pounds. However, 3 fish over 70-pounds have been caught within 20 miles of Falmouth in the past decade. The average fish caught daily on the Islander ranges from 5-30 pounds with the occasional 40-pounder mixed in. We employ all methods of fishing from trolling, jigging, and live baiting and casting depending on the crew and time of year. The current regulations are 1 fish per angler with a minimum size of 28 inches.

Bluefish: They're Always hungry and always around, the Bluefish is an excellent game fish. The fish around our area average 3-15 pounds and can be caught by a variety of techniques. Check out our August Bluefish Specials. These are great trips for the whole family. There is no minimum size limit for Bluefish, however a limit of 10 fish per angle is in effect.

Scup/Porgies: May 1 - Jun 30 9 in. 45 fish ; Jul 1 - Dec 31 9 in. 30 fish

Black Sea Bass: May 19 - Sep 12 15 in. 5 fish

Fluke: May 23 - Oct 9 17 in. 5 fish

RATES FOR THE UPCOMING FISHING SEASON:
MAY RATES:

Squid (8 hour trip) - $750

Scup/Sea Bass (6 hour trip) - $675

JUNE RATES:

4 hour trip - $500.

6 hour trip - $700.

8 hour trip - $900.

JULY - OCTOBER RATES:

4 hour trip - $550.

6 hour trip - $750.

8 hour trip - $950.

*Custom trips available, don't be shy, just ask. If you have an idea and want to try it, there is a good chance we can do it!*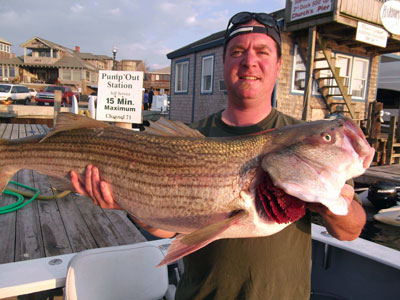 A 25% deposit is required to secure your date. We accept Visa/MasterCard, Personal Checks, and Cash.
You may cancel up to 10 days prior to your trip with a full refund otherwise, we retain your deposit. Weather cancellations are at the discretion of the Captain on the day of the trip and if we cannot reschedule, your deposit will be refunded.
180 Scranton Ave, Falmouth, MA
From Boston: Take Route 24 South to I-495 South to the Bourne Bridge. Or take Route 3 South to the Sagamore Bridge Rotary. Follow signs to Buzzards Bay/Falmouth, then cross the Bourne Bridge.
From the Bourne Bridge: Take Route 28 South to Falmouth (Route 28 bears left past Queens Byway). Follow through the center of town. Take a right at the 7-11 convenience store onto Scranton Avenue. Proceed 1/4 mile, parking on left after boat ramp lot.
All custom tackle is provided aboard the Islander. You will need to bring your food and beverage for the day, (no glass bottles, please) and clothing that is suitable for the days forecast (raingear or sun block).
Also: Camera, Windbreaker, Hat, Sunglasses